Important and nearly everytime a reason for misunderstandings: the correct size!


Today you can´t be sure that for example a UK size 6 (what is an EU=39 or an US 8) is the same in every shoe and with every manufacturer.

These days shoes are made in far east and other countries usually and the sizing is very different.

Shoe sizes are not standardised and so you can´t be sure that a size 6 is a size 6 in every shoe. So what to do??

The only and true measuring unit is the centimeter or inch!
Because we are based in Germany we work with centimetres (cm).
So if you are not sure what size you need or have, please do as in the following example from Antonio Pacelli and just tell us your measurement with your order.
We try to find the right fitting for you :-)


How to do an Accurate Foot Tracing:
Sizing shoes and pumps can be difficult especially if you are moving between styles.
If you are unsure what size to purchase then doing a tracing of your foot and measuring it can be a useful indicator of what size to go for.
Here are our top tips for creating an accurate foot tracing.
Ideally ask someone else to do the tracing while you stand up as this will allow the foot to spread to its natural shape.
Put a book underneath the paper or something hard on the floor if you are doing this on carpet, as it will make it easier to draw around your foot.
Draw around your foot with socks on (ideally with your dancing socks on) as there is no need to draw between the toes and removes the temptation to 'spread' the toes to draw between the toes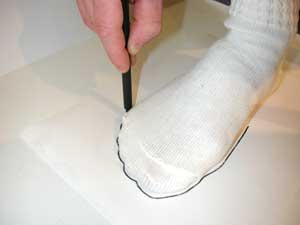 Do not use a pen with a very thick body as this will distort the length and width measurements.
Keep the pen vertical at all times when drawing around the foot. The aim is not to draw around the part of the foot, which touches the paper, but to convey the accurate size of your foot.
Draw a line on the sheet going from the heel to the top of the big toe and measure it.
Do this for both feet. If different (most peoples are!) use the smaller foot measurement when purchasing pumps as these need to fit snugly and the larger foot measurement when purchasing jig shoes.